Since Joint Venture Percussion Duo won the Bernard Haitink Prize during the 2011 edition of the Vriendenkrans Competition of Amsterdam's Concertgebouw, they had the chance to be guests at some of the most prestigious concert halls, such as Amsterdam's Concertgebouw, Luxembourg's Philharmonie and Beijing's National Centre for the Performing Arts.
The collaboration between Rachel Xi Zhang (China) and Laurent Warnier (Luxembourg) has since then, reflected a blend of cultural and musical influences. Coming from vastly contrasting backgrounds, they found common ground through percussion, fusing ideologies to form the uniquely international duo that they are today.
They made their Double Concerto debut with the Shenzhen Symphony Orchestra, following appearances with the Harbin Symphony Orchestra, the City of Southampton Orchestra (GB), the Musique Militaire Grand-Ducale (L) and the European Union Youth Wind Orchestra.
Besides, Rachel and Laurent were a featured duo at such diverse events as the Big Bang International Percussion Festival (NL), Zeltsman Marimba Festival (USA), the International Marimba Festival Tabasco (MX) and the International Percussion Festival of Luxembourg.
Their Debut recording Ravel - Dances and Fairytales which was released by the BIS label gained high critical acclaim, being called "A treat for audiophiles and percussion fanciers alike; a duo to watch". (Music Web) and "…(their) transcriptions … convey some incredibly tender and emotional moments." (Pizzicato Magazine)
The Duo constantly strives to contribute to the field of contemporary music, and to date have premiered new compositions written for them by composers from China, Luxembourg, U.S.A., Canada, Japan, the Netherlands, Israel, Great Britain and Uzbekistan.
Rachel and Laurent are Marimba One endorsers, currently based between Amsterdam (NL) and Luxembourg (LU).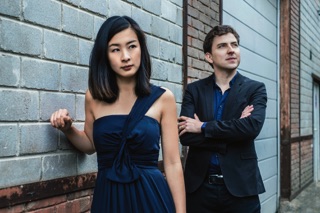 Arrangements & Adaptations
Contact us
info[at]jointventurepercussionduo[dot]com